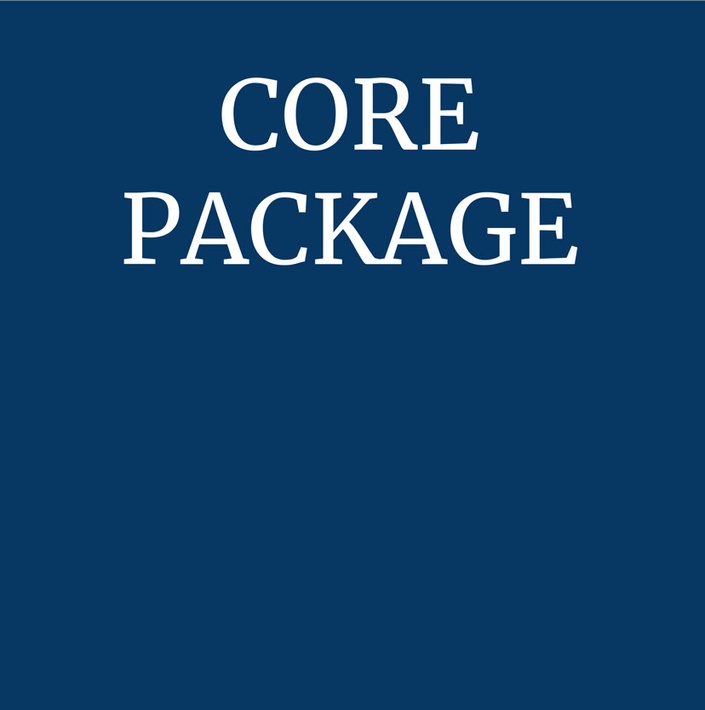 CORE PACKAGE
Resume Overhaul and Access to the full
'How to Find your Dream Career Course'
Will Help You Land Your Dream Job
Purchase for $397
HERE'S WHAT'S INCLUDED
Master Resume: We will revise your current resume so that it gets past Applicant Tracking Systems (ATS), is approved by the recruiter or screener, and piques the interest of the hiring manager. Our resume re-work includes the correct formatting, organizing, and highlighting of your skills and experience. Your improved resume is accompanied by job summaries that contain all the tasks, duties, technical skills and more that are associated with the positions you have held. These summaries are crucial tools in developing your resume, as they contain the terminology necessary to get your resume past the screening of the ATS.
Job-specific Resume: Once a finalized copy has been created and returned for your approval, a tailored resume is then possible. You will find the perfect job posting for you, clone your master resume and delete content you feel isn't a fit. From there, our staff will finish condensing, editing, formatting and perfecting the content of your tailored resume. They will also include any feedback, suggestions, or ideas to help customize it toward your desired position.
Cover Letter Template: After completing your Job-specific Resume, you'll receive a cohesive, grammatically correct, cover letter template that you can customize with all the information a potential employer will look for.
Thank You Letter Template: We will provide you will a Thank You Letter template to use after interviewing.
Full-Service LinkedIn Profile Update: With a finalized master resume, our staff will re-purpose its content and polish it within your LinkedIn profile. We will fill out all areas of your experience, education and skills, as well as complete your summary, update your background photo, thus providing you with a new, sharper web presence. With our profile update, you really will stand out from the crowd!
'How to Find Your Dream Career' e-Course Lifetime Access: With this package, you will receive lifetime access to our entire "How to Find Your Dream Career" e-course, which has helped hundreds of professionals win the job search game and find the position of their dreams. This web series includes 5 hours of invaluable information, from being a stand out applicant, to a stellar networker, a fantastic resume builder, or a LinkedIn guru who knows how to capitalize on the platform in all ways related to the job search. It includes 20 videos and numerous action sheets to help you build and develop an amazing professional prowess!

"I initially engaged with Jason on the phone, and he was fantastic; we instantly built a connection and I knew I was in good hands with him. Jason is a knowledgeable, confident speaker with a lot of great insight on how a professional can best present themselves during their job search. Unlike other writers, Jason didn't just reword one of my old resume's. He actually took time with me and asked some good, challenging questions to make sure he knew what direction I wanted to go with my career. It was because of Jason and his colleague that I built a winning resume and landed my dream job the day after it was finished. Jason has the right connections, knowledge, and information to help anyone succeed in their field. Thank you Jason!"
- Will K.

"I took Jason's course: Fast-Track Your Job Search – How to Find your Dream Career. Having been in HR for many years I can confidently say that this course is amazing!

In this course Jason provides detailed insight on how to put your best foot forward when looking for the next phase in your career. In his course Jason's teaches how you as the candidate are not looking for your next job, but identifying your career and that you are your career. Words that I firmly believe every candidate hopeful can look to. He helps you find a way to bring out the best you!

Whether you are an employer and need help with hiring awesome talent or are looking to make a change in your own career, Jason and his team at Sound Advice is where you should start your journey.

I can confidently say that to this day, Jason continues to provide me with "Sound Advice" and I am 100% confident he can do the same for you."
- Paige R.
Frequently Asked Questions
What exactly is a Master Resume?
It is a complete listing of everything you have ever done at every professional position you have held; it also includes the entire span of your education, volunteer, and other relevant experiences from earliest to most recent and is built upon your personal data dump. A Master Resume is a document that tailored resumes are created from and is considerably longer than your average resume.
How is a Master Resume different from a tailored resume?
Your Master Resume is your career document and a tailored resume is your job document. A Master Resume is a summary of everything you have ever done as a professional and the other is a specific listing of your most relevant tasks, accomplishments, education, and experience based on a specific job posting.
How does tailoring a resume work?
After a Master Resume is built, a tailored resume is created by condensing, cutting, and keyword matching a job posting. You are removing information that a job posting doesn't call for or reference. A tailored resume will typically be 1 to 2 pages.
When will I receive my Master Resume and job specific resume?
The creation of your Master Resume takes 1-3 business days. You and your Resume Writer will spend up to 7 days* and 2 rounds of revisions to complete your Master Resume to your satisfaction.
Why is my LinkedIn profile so important?
Recruiters are spending upwards of 70% of their time seeking qualified candidates via the LinkedIn platform. If your LinkedIn profile isn't up-to-date and sharp in appearance, it is going to be passed over, or potentially never found at all. A strong web presence is crucial to succeeding in today's job-search game.
How long do I have access to the course?
How does lifetime access sound? After enrolling, you have unlimited access to this course for as long as you like - across any and all devices you own.
Do you have one-on-one coaching?
Yes! Our team of career coaching consultants are readily available for you when you need them. Send us an email at
[email protected]
to schedule your coaching session today!

"I have taken much of Sound Advice Career videos to heart and will be applying the lessons to my networking and academic career in the upcoming years. I think your words "Invest in People" have really stuck with me the most, I now write it at the top of my to-do list every day. Thank you, Jason! I appreciate your guidance and the Sound Advice program."
- Rick C.